sponsored link

If you have used iPad, please install and enjoy this appliaction "Trend NOW! for iPad".
This application automatically collect hot topics being twittered about in NOW.
Using Google Trends as search keywords, it automatically collect and display Tweets.
It can pick up words that are spoken at this moment in real time.
If you carry around this application, you can fell the amazing speed of information.
You can collect information within these several minutes, that's not yet flowing on news or that you can't find on internet search.
* Account of Twitter is not required.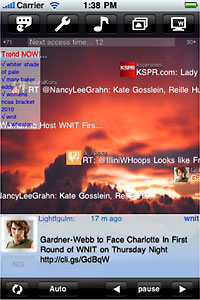 You can also set up any keywords for search freely or register Lists on Twitter.
It can display only topics of your internet or Twitter by specified persons.
You can check about keyword spike in NOW immediately on Google, Wikioedia and Twitter with embedded browser.
You can play audio from playlist on your iPhone/iPod as a background music.
You can chose any background image from imageson your iPhone/iPod.
You can prevent the display of spam Tweets with NG account function.
You can use Twitter by login with embedded browser if you have Twitter account.
It does not function normaly unless internet connection.
Check out this link for Trend NOW! manual
Trend Now iPhone App Review!
We would like to review from you!
We refer your reviews for version upgrade.
Trend NOW!
REREASED–2010/03/18
Categories:Entertainment
関連記事 (Similar Posts):
sponsored link